Swimming Pool Enclosure Ideas
The modern swimming pool enclosure is no longer limited to just aluminum and screen material. With the use of polycarbonate the design and style of swimming pool enclosures these days are almost limitless.
A particularly popular type are the retractable swimming pool enclosures.
As a pool owner, you know that cleaning your pool can be a lot of work and cost money you could be saving. Simple pool covers can offer a limited amount of protection but still allow the pool to get dirty.
Pool enclosures are like creating an indoor space around the pool area. More convenient than any pool cover, and allows you to use the pool all year long, even in the rain. This is worth considering when designing and building your own swimming pool.
Convenience
Extended your swimming season or Swim All Year!
Use your patio or swimming pool even in bad weather (simply slide the segment to enclose it)
Slide your enclosure off the pool or patio in hot days (let the pool or terrace breathe)
Prolonged use plus extra storage, planting or exercising space
Reduced cleaning time by keeping dirt, leaves and debris out of your enclosure
Safety
minimize the risk of your children or pets falling into the water
system of securing enclosure segments to the tracks protecting against high wind
No glass – non breakable polycarbonate panels
UV protection reducing harmful rays of the sun
Savings
Save on heating your pool or patio
Retains thermal comfort even on colder days
Less water evaporation, less chemical loss

Retractable Pool & Spa Enclosures
As the big alternative to the conventional screened-in pool or porch, which still leaves you wet and cold in a rain storm – retractable enclosures are becoming more popular. With the use of polycarbonate these swimming pool enclosures are able to conform to almost any backyard layout, and can be moved out of the way when needed.

Not just an enclosure, these things have moving parts! When you feel like getting a bit of fresh air, just open up the retractable sections.
Fall, winter, spring, and summer — year-round, there will always be outside elements that fly around in the air and can end up in your pool. When you enclose a pool, you keep it protected from unwanted particles such as dirt, leaves, and dust.
Polycarbonate Patio & Porch Enclosures
As you might imagine – anything you can screen-in you can also replace with longer lasting polycarbonate paneling – and that includes the porch and patio enclosure and sunrooms.
Retractable patio enclosures have many more advantages over screened competitors. Patio enclosures allow you to use your patio all year round.
The main advantage – retractibility – enables you to completely slide the enclosure open in nice weather.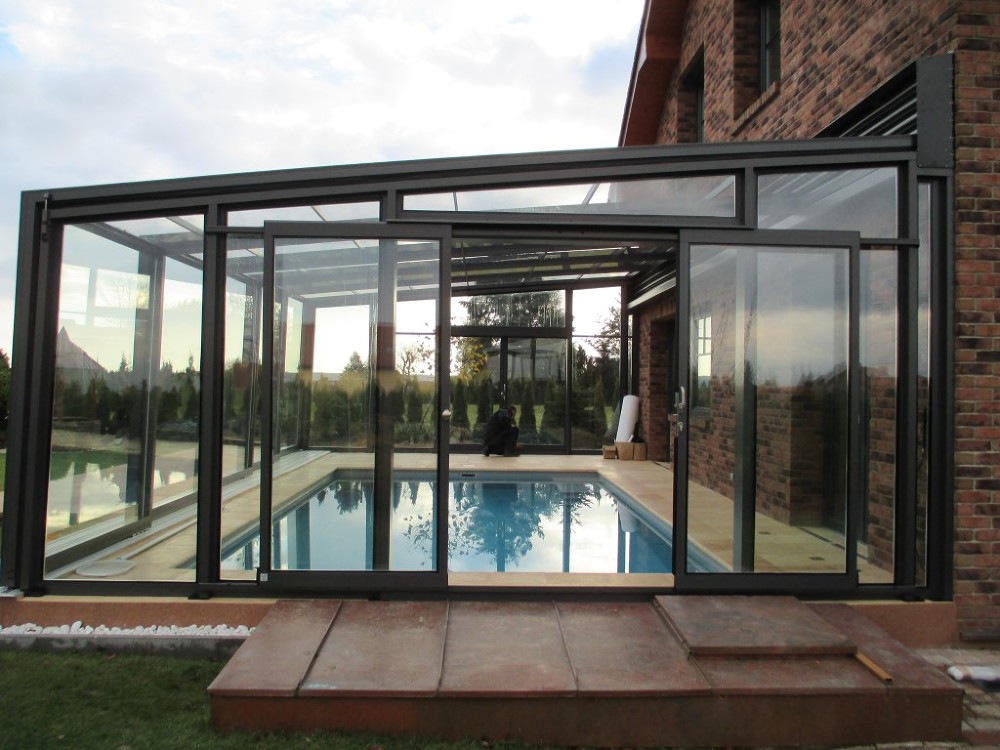 There are endless uses of the patio enclosure – you can create a new smoking room, covered outdoor dining area or simply storage space. Enclosures are a great addition to your home or pool if you love relaxing outside. With enclosures you will never have to worry about the inclement weather in spring, summer or fall again!
Swimming Pool Enclosure Construction
A swimming pool or patio enclosure can be installed during construction or added on afterwards. It may be prudent to include the swimming pool enclosure at the same time of construction, but is easy enough to install to an existing pool.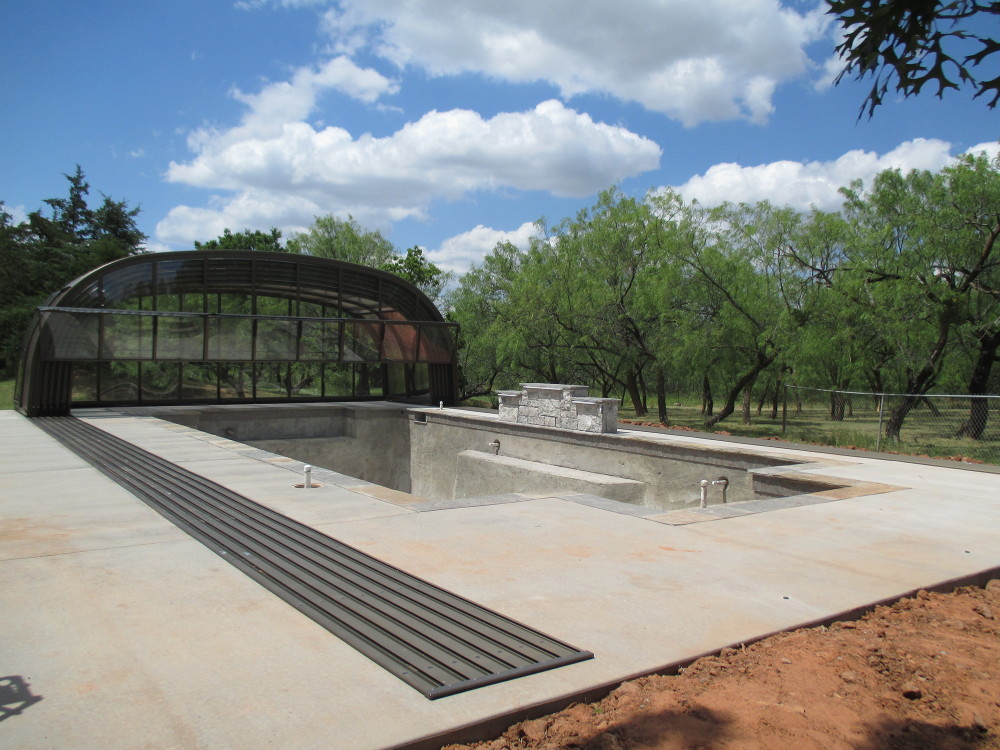 What is the best retractable pool and patio enclosure?
The best swimming pool enclosure is the one that fits your needs. In a perfect world and unlimited budget we would go for the polycarbonate retractable swimming pool enclosure every time. The benefits of polycarbonate swimming pool enclosures are numerous:
Bespoke design solutions and individual approach
Up to 15 years of warranty (on selected models)
Choice between polycarbonate or glass
7 colors of aluminum frames
Safety options thanks to our sophisticated locking system
Protection of swimming pools and patios against bad weather
Extra features available
Savings due to thermal insulation, reduction of costs on water heating
Prolonging of the outdoor season and the swimming season
Where to buy retractable swimming pool enclosures