Online 3D pool designs and swimming pool permit plans
There is so much that is involved with designing a swimming pool that will compliment everything including the ratio of hard surfaces vs grass or gardening area, walking paths, architectural elements, and water features. The advancements of modern day technology have made our lives easy once again!
Visualize Your Pool Design in 3D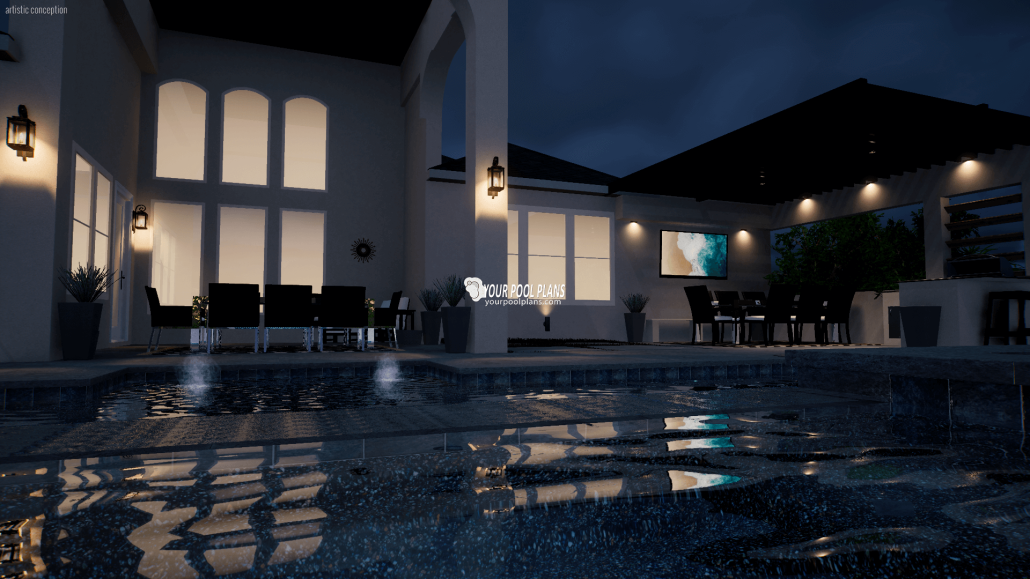 3D Pool Design Software provides some of the technical design tools (used under the correct level of experience) These cool 3D pool design tools are extremely helpful in the hands of an experienced design professional to help pool builders achieve a scaled and accurate swimming pool design layout. Levels of experience are required to translate even a hand drawn swimming pool layout into a real world functional swimming pool design that will not be prone to problems during construction.
It's all about the planning and design
Knowledge of certain key functions to how a swimming pool plumbing system works for example has to be calculated and factored into the desired design details for proper functionality of the pools' most vital function, that is water circulation and chemical disbursement. Of course no matter what type of pool and no matter where you are installing your pool the engineering details of that particular pool system must be designed correctly or else the designed features may lack luster and not work properly as intended. Our pool design professionals have a minimum of 10 years experience engineering stunning pool designs in absolutely any backyard into a relaxing and luxurious watering hole!
From 3D Design Concept to Real World Construction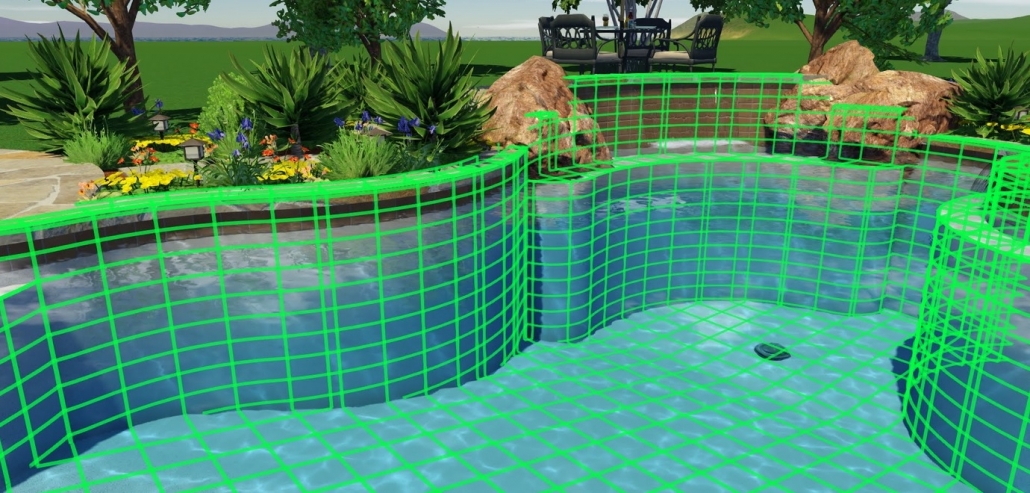 Use of 3D pool design software solves many design flow efficiency issues with the design proposal & estimation process of your pool project. If you have chosen a pool contractor from our network to work with you will receive a precise and scaled accurate pool design based on your desires, your style, and the interests that you suggest to our builder that should be included in your new pool design.
Capabilities of the pool design programs are growing rapidly, now some even feature the ability to calculate the rebar grid layout and approximate required amount of water needed to fill according to the dimensions of the pool design that is being worked on. These capabilities are only useful in the hands of an experienced swimming pool designer with a foundation in CAD.
3D Pool Design Advantages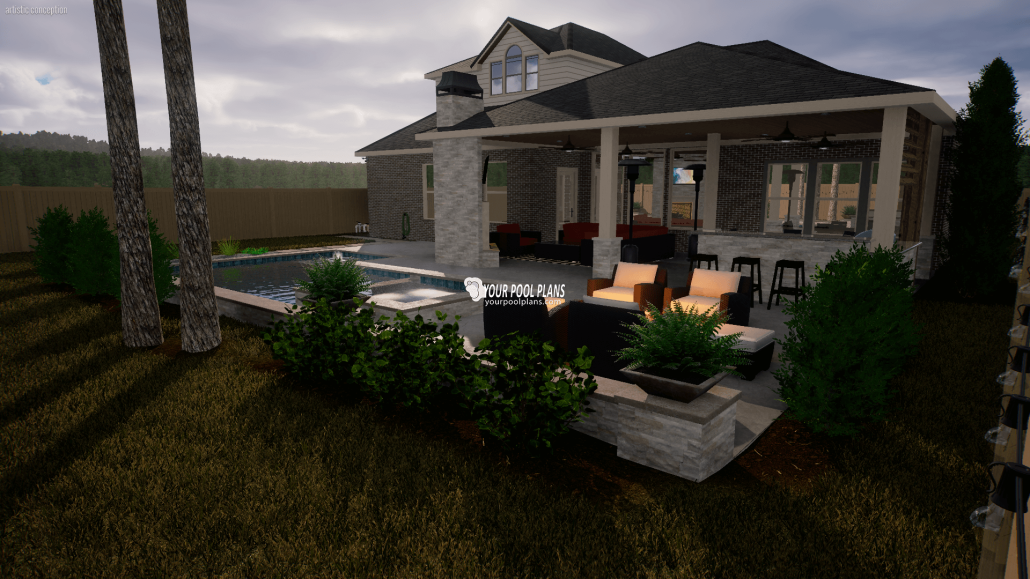 You may be wondering, with so much attention and time involved creating swimming pool designs how can we keep up with creating swimming pool designs for our clients? This is just part of what every successful swimming pool company that specializes in pool construction must do.
With our online 3D pool design service you can expect several advantages to make your pool design truly one of a kind and exactly what you want.
Your 3D Pool Design is perfectly customized for your backyard
Our expert pool designers are experienced engineers using CAD to properly design any swimming pool layout
Homeowners: You have the option to purchase your customized design from us, and use with the pool builder that you choose.
Pool Builders: You will be provided with the preliminary pool designs ready for presenting to your clients along with specifications to create accurate cost estimations and we can follow that up with the required pool construction sheets you need when it's time to sign the contract and submit the plans for permitting.
3D pool design software is also used on swimming pool renovation projects, to make sure that we are considering every remodeling option that you want
We are excited to be given the opportunity to show you our elevated pool design techniques and quality in design from the understated to the highly detailed. Our pool designs provide you the peace of mind knowing that we are in-depth and experienced aquatic drafting service. Our professional design staff is prepared to deliver an original and custom 3D pool design that compliments your backyard and lifestyle.