OUTDOOR SUMMER KITCHEN DESIGN TIPS

Summer is a time for pools, patios, hot dogs & hamburgers and entertaining family or friends. Summer is a time for kids to spend all day in the pool, and lots of in-and-out activity. Having a transitional area around the pool such as an outdoor kitchen or outdoor living spot can really add some convenience to the function of your backyard design.
If you have the space, learn how this property improvement will add a lot of perceived value and great memories.
What makes a good outdoor living area?
We like to see outdoor living design flow with function as complimentary or integral to the surrounding architecture with sensible access and lounging space between the house and pool. A good outdoor living design can include a kitchen as well, but can also be a convenient place to take a break, get some shade by the pool, watch the kids play under cover and generally stay comfortable outside.
Design
Function
Flow to the pool and back
Shade & Cover
Convenience
Minimize the frequent trips with wet feet and bathing suites in & out of the house. The outdoor kitchen or living area provides a good spot to dry off and transition into or out of the home.
Sit back in a heated spa or chill in the pool with floats while watching TV or listening to the radio, and when you get thirsty grab a beer from the outdoor fridge – as you were.
Seriously, having this are built into your pool / backyard design is THE BEST way to enjoy the pool are whether you have already started building, or already have a pool and thinking about adding a summer kitchen area, or you are in the planning stages – an outdoor kitchen living area is the game changing factor to your perfect backyard design!
Let's learn some more about what makes a great outdoor living design – keep on reading below.
What makes the best outdoor kitchen / summer kitchen?

The best outdoor kitchens feature much of the same of what you will find in the home. Go as far as you want / can afford – or stick to the simple basics. The best outdoor kitchen is going to have the main features & functions you need and want. Just ask yourself what do you find frustrating about hosting a pool party with food, and create a wish list from those problems – because they can be solved with a great outdoor kitchen design.
Some of the best outdoor kitchen design ideas:
A summer kitchen can take the shape of almost any you can imagine, whether large or small many of the popular outdoor kitchen design features include:
Backsplash
Serving Bar
Sunk-In Design
Wet Bar
Cabinet design that conforms to any custom shape
Get your outdoor living design plans right here:
We provide fully rendered and ready for construction outdoor kitchen and living design plans – Upgrade your patio space today!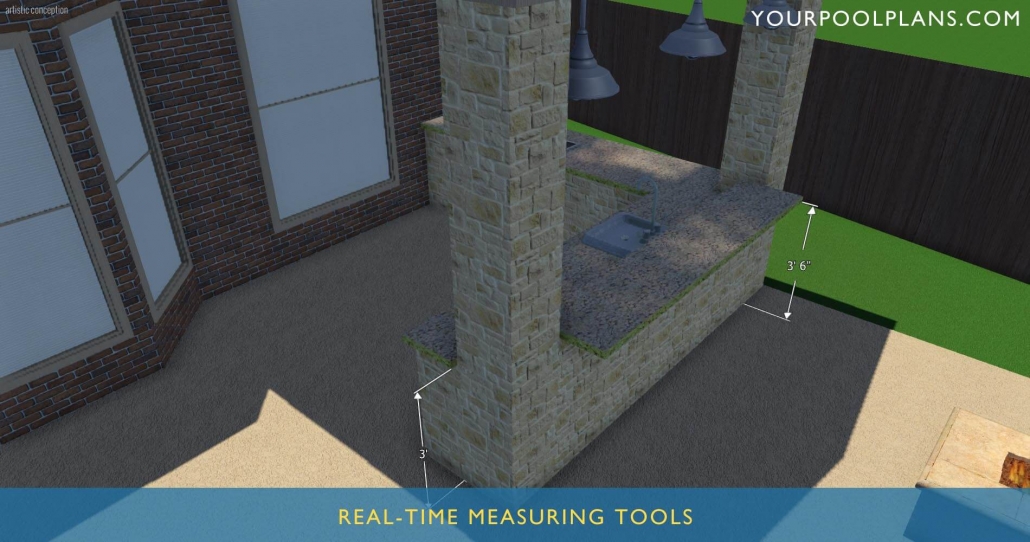 Best outdoor kitchen counter top surfaces:

The most popular option for outdoor kitchen counter top material is granite that matches the inside of the home, although not always – and there are several nice options to choose from.
Granite
Typically 3cm to 5cm thickness for outdoor use, granite can sometimes get hot, and may tarnish from lime or lemon juice.
See – granite counter tops
Concrete
Counter top concrete is specialized and hand-made, with the same slight draw-backs as the granite but also a great option due to it's high level of customization.
See – concrete counter tops
Hardwood
Using any hardwood, you can shape and sand to create a base counter top shape, wood-fill and sand then cover with epoxy for a nice natural wooden counter top.
See – hardwood counter tops
Tile
The straight forward and cost effective way to cover a counter top, simply choose tile that you like. Our advice for outdoor kitchen tile is try to stick with the larger variety, less grout lines.
Best outdoor kitchen cabinet finish material:

Veneer material is what wraps the outside cabinet of the outdoor kitchen, and comes in several different categories.
Stack stone
Cedar Paneling
Stucco
Tile
Flat (sand)stone
Brick
What are the newest and best features to put into an outdoor kitchen design?
We only want to build this outdoor kitchen once, and we have a lot of options to go through. Let's take a look at the most popular accessories and features for summer kitchens that make sense.
Being aware of the possibilities might help you to pre plan features you may want to add later. Running wires, or raceways allow you to add an audio system at a later time, for example.
Electrical Accessories
Plugs
You need at least 1 GFCI receptacle in the outdoor kitchen circuit, and the rest can be normal tamper proof. Make sure that all plugs have weather resistant outdoor covers.
Make sure you put an outlet in the backsplash
The grill head will need a plug inside the cabinet
Make sure to put plugs under the sink, especially if you have an outdoor fridge or dishwasher & disposal.
Charging Ports
Some plugs also feature USB charging ports, which is highly convenient for all situations. Be sure to look for these USB style wall receptacles for your project.
Light Switches & Fans
Whatever your design plans are, make sure to think about light-dimming switches, LED lights, and fans with remotes.
Low Voltage Accessories
We have seen a lot of really cool outdoor kitchen designs, some people really like to go all out. Some like to accent subtle details – whatever the case some of the most popular low voltage outdoor kitchen features include:
Accent lighting
Down lighting
Rope lighting under counter
Behind-tile LED color changing lights
Themed & stylized grill and sink lights
Cable & Internet
Never miss a moment of your favorite tv shows or entertain your guests from inside to out of the house seamlessly – most systems these days are wireless and may not require running wires, depending on what your outdoor entertainment goals are.
Audio
Surround sound audio is a great feature to have with an outdoor tv, be sure to run the wires ahead of time if you plan on installing surround sound later.
Outdoor Comforts
If you are going to spend time outside you need to make it comfortable. Some of the minimum required outdoor comforts for humans are:
Heaters
Ranging from ceiling mounted to portable stand-up, heaters are a must have for any season when spending your time outdoors, especially at night.
Fans
Ceiling fans of any variety are also a must-have comfort for all seasons of the year.
Shade covers
Stay cool in the heat with a proper shade cover for your outdoor living area. Ranging from roof extensions to pull-down shades, pergolas and more.
Fireplaces
Enjoy your favorite spot outside with the comforting warmth of a built in outdoor fireplace, sure to be a key gathering place during the holidays.

Benches
Flexible custom design will allow the incorporation of seating benches that may even combine into other elements such as fore wood boxes and fireplace hearths.
TV
mount on the wall
Walls & Partitions
for wind break & privacy
Storage Compartments
What are the best outdoor kitchen appliances?

Outdoor appliances made to withstand the elements are not created equally. You can save all kinds of money on the veneer materials, but DO NOT go cheap on the outdoor kitchen appliances.
We have seen & heard a lot about outdoor appliances and there are 3 brands that are worth your money.
Best Brands for outdoor kitchen appliances
BULL BBQ


Bull has some of the best pricing and longest lasting outdoor kitchen appliances that are made in the USA. Truly our top choice option.
RCS


Runner up to Bull is Renaissance Cooking Systems (RCS) which is a bit more expensive, but also a good option if you prefer their design style.
Grill Heads
The most common grilling head we see, both for cost and functionality, are 5 burner drop-in grills about 30″ to 32″ wide.
Side Burners


All 3 of the grill brands mentioned above will carry complimentary side burners to their grilling heads, available separately. Not always required and an optional accessory, you want to know if you are cooking enough food or expecting enough guest, or have a meal with pots & pans – you may want to spend a few extra bucks on a grilling side burner.
Fridges & Icemakers


It is very important that you pay attention when purchasing an outdoor fridge, it must be clearly labeled as "outdoor rated". These are the type of mini fridge that is built to withstand the elements with sealed electrical components, and the ability to lock the door with a key
Sinks & Disposals


From standard to designer style depending on what your projects calls for. Just like the indoor kitchen you can also opt for the popular under-mounted sink option. If installing a disposal make sure that the drainage plumbing can handle the wasted food without becoming blocked.
Other Stuff
There are all kinds of cool gadgets and machines out there that help enhance outdoor living and entertaining.
Green Egg (smokers)
Margarita Machine
Doors & Drawers
Built-in bottle openers
Built-in paper towel rack
How to build outdoor kitchen cabinets correctly:

Starting with a solid concrete foundation, the construction of an outdoor kitchen is in-place and very much like building kitchen cabinets as usual, although the materials used are specifically rated for outdoors.
Framing & hardware
Tin or aluminum studs
Stainless steel self-tapping screws
Paneling
Hardi-backer board
Concrete board
Veneer material
Stack stone
Cedar Paneling
Stucco
Tile
Flat (sand)stone
Brick
How much does the average outdoor kitchen cost?
Some kitchen are made from kits, and may cost less – you get what you pay for. A quality constructed custom designed outdoor kitchen can range in price from: $6,000 to $60,000 or more – as you can imagine, it depends on the scope and design. A contractor will charge $9,000 to $11,000 for the same outdoor kitchen you can manage to build for $6,500.
A linear style outdoor kitchen spanning 6FT with a 32″ grill head, granite counter top, stack stone, access doors, and basic utility configuration will cost $6,000 to $7,500 to build (at cost), see the following breakdown example:
Based on averages:
Framing & cabinetry cost
$2,000
Utilities & hardware cost
$900
Counter top cost
$1,000
Appliances total cost
$3,000
Finish material Cost
$1,200
The pricing mentioned above will vary greatly depending on the specific design and application.
When is the best time to build an outdoor kitchen?
It should only take about 2 weeks to fully complete a outdoor kitchen project, and much of the lead time is in the granite counter top. Being able to get the job done in just 2 weeks, maybe less, means any time is a good time!
If you are planning to build a pool or renovate the backyard / back patio space then build the kitchen at the same time as the rest – it's always best to build the entire project if you can manage the budget to do so.
What are the best ways to cover an outdoor kitchen?
Shade covers for outdoor kitchens come in all types of varieties from attached to the home to free standing:
Pavilion
Pergola
Trellis
Patio Cover
Roof Extension
Outdoor Kitchen Online Design Plans
Ready for construction outdoor kitchen design plans you can use with your pool project or install an outdoor living area by itself. Upgrade your patio space with an outdoor kitchen this summer – get started today with a outdoor living design plan set that is ready for construction!
Where can I get outdoor kitchen plans online?
We provide you with all of the outdoor kitchen design plans you would need to hand off to subcontractors (or general contractor) – AND we provide you with resources and support to do the project your self and SAVE BIG.
Sources & citations from this article:
Bull BBQ
Renaissance Cooking Systems (RCS)
Related Content, Topics & Posts